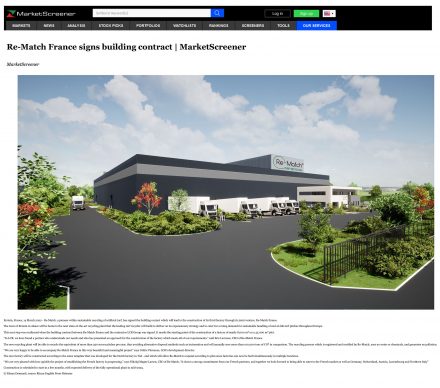 Re-Match France signs building contract
Par la rédaction, le
Erstein, France, 14 March 2022 – Re-Match, a pioneer within sustainable recycling of artificial turf, has signed the building contact which will lead to the construction of its third factory through its joint venture, Re-Match France.
The town of Erstein in Alsace will be home to the next state-of-the-art recycling plant that the leading turf recycler will build to deliver on its expansionary strategy and to cater for a rising demand for sustainable handling of end-of-life turf pitches throughout Europe.
This next step was confirmed when the building contract between Re-Match France and the contractor LCR Group was signed. It marks the starting point of the construction of a factory of nearly 8,000 m2 on a 42.000 m2 plot.
« In LCR, we have found a partner who understands our needs and who has presented an approach for the construction of the factory which meets all of our requirements, » said Eric Levresse, CEO of Re-Match France.
The new recycling plant will be able to recycle the equivalent of more than 250 soccer pitches per year, thus avoiding alternative disposal methods such as incineration and will annually save more than 100,000 tons of CO2 in comparison. The recycling process which is registered and certified by Re-Match, uses no water or chemicals, and generates no pollution.
« We are very happy to be able to accompany Re-Match France in this very beautiful and meaningful project » says Cédric Pérennes, LCR's development director.
The new factory will be constructed according to the same template that was developed for the Dutch factory in Tiel – and which will allow Re-Match to expand according to plan since factories can now be built simultaneously in multiple locations.
"We are very pleased with how quickly the project of establishing the French factory is progressing," says Nikolaj Magne Larsen, CEO of Re-Match, "It shows a strong commitment from our French partners, and together we look forward to being able to cater to the French market as well as Germany, Switzerland, Austria, Luxembourg and Northern Italy
"Construction is scheduled to start in a few months, with expected delivery of the fully operational plant in mid-2023.
Source : Market Screener >> News >> 14/03/2022 >> © Ritzau Denmark
Retrouvez cet article